Major Update Launches June 2nd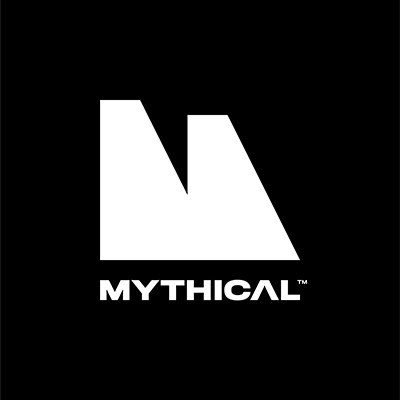 Mythical Games
Blankos Block Party is getting a huge update on June 2nd! We're adding tons of new features, revamping the Junction, adding new quests, new abilities, a new way to level up your Blankos, MashUPs, Seasonal Challenges, and so much more.
This is the single biggest update to Blankos Block Party, so let's get into it.
We are going to be introducing key Play-to-Earn features, like the Party Pass where you can earn Blanko Bucks and even a Blanko NFT just by playing the game. This is a massive step forward for Blankos and we can't wait for you to jump into the party!
Party Pass and Seasonal Challenges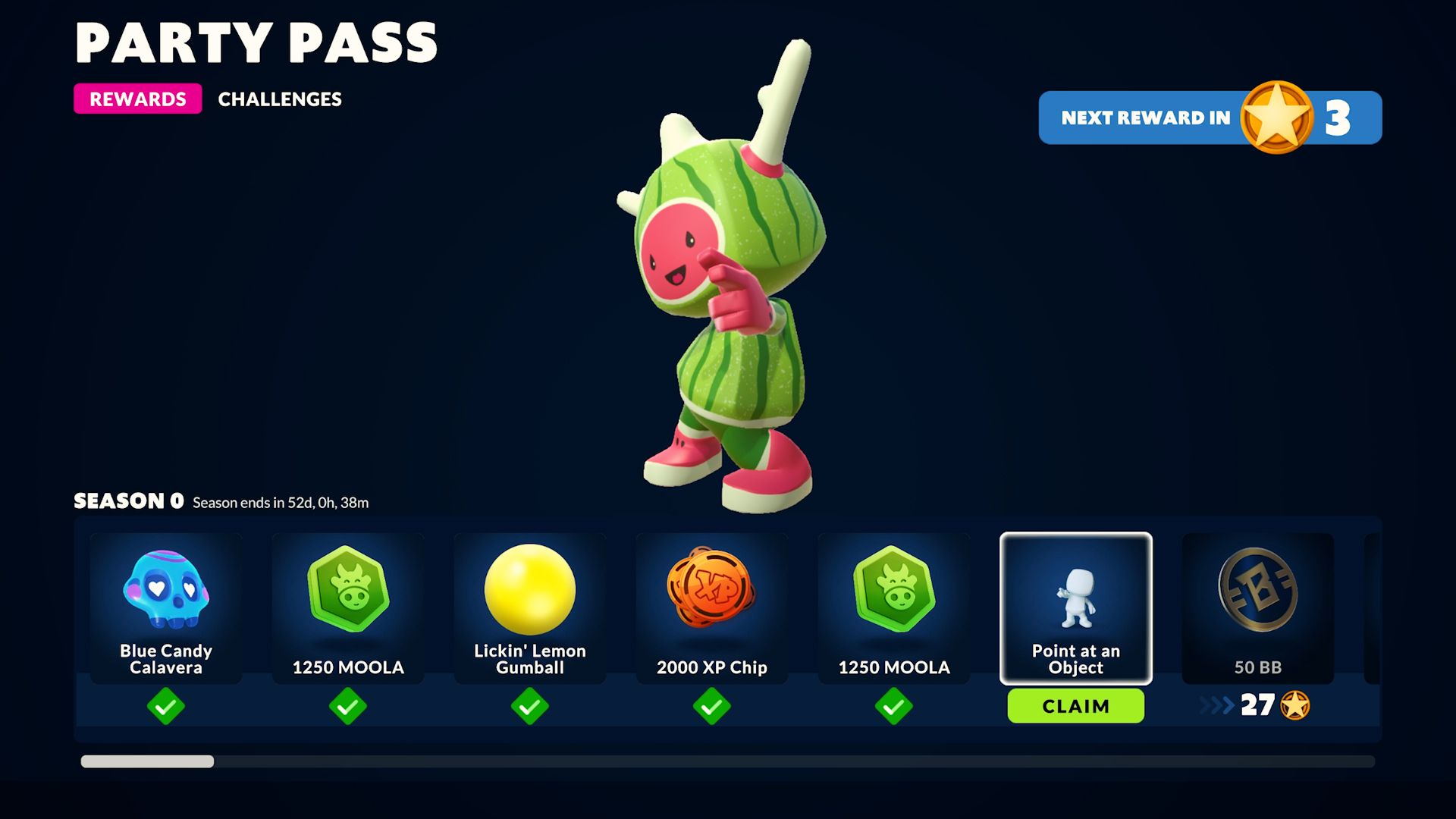 Get ready for the Party Pass! The Party Pass is the new way you're going to earn rewards just for playing the game. We're introducing Daily, Weekly, and Seasonal Challenges that will unlock Hype Points. As you collect these Hype Points, you'll advance in your Party Pass, unlocking new accessories, Moola, Blanko Bucks, Gumballs, XP Chips, Emotes, and even a special Blanko! This Blanko will be an NFT and will be able to be listed on our Marketplace when it's live.
MashUPs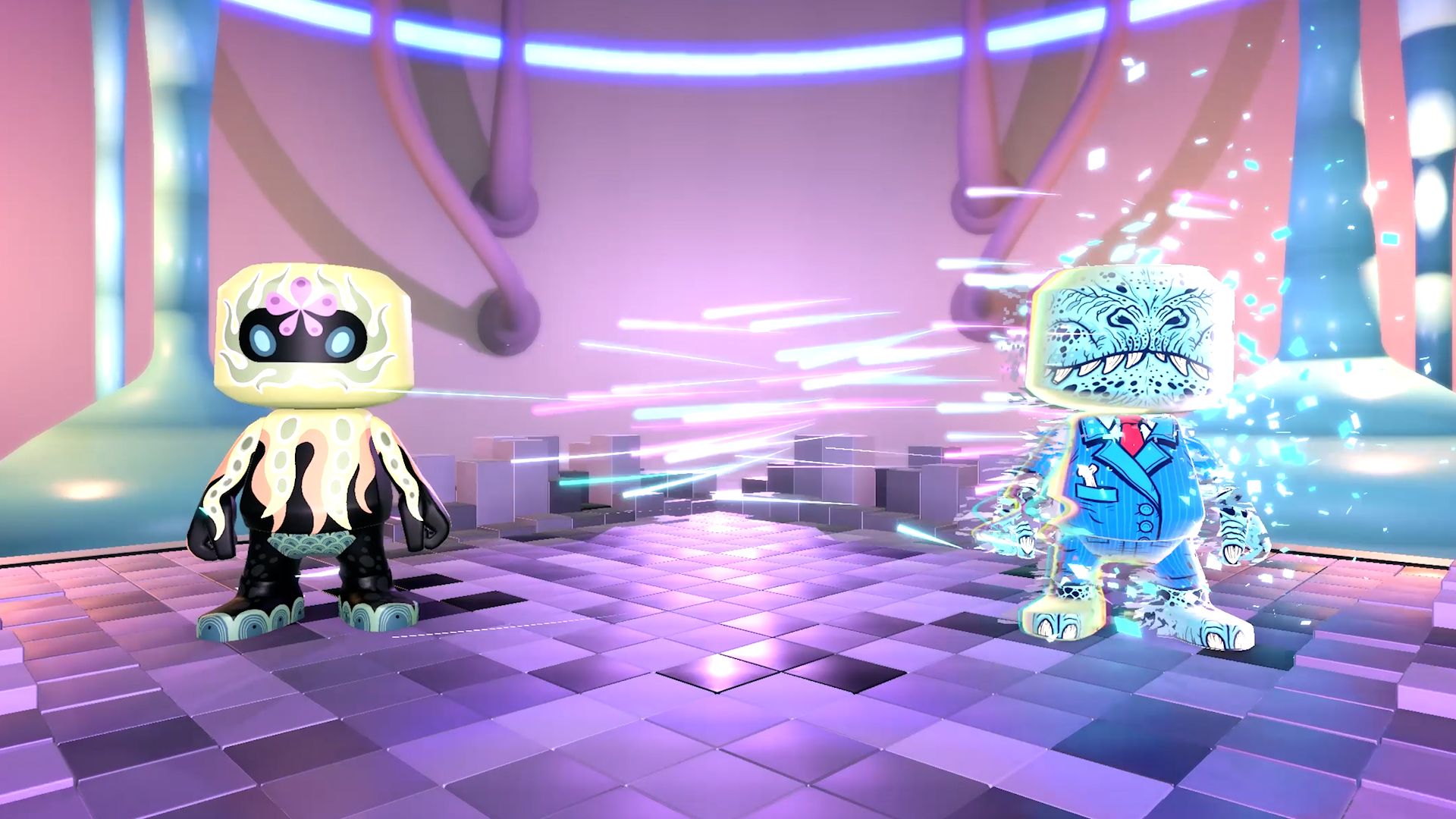 The Vendor Blender is opening on June 2nd! Customize your Blankos in two ways: Mixing and Mashing. Mixing means you're customizing a single Blanko using a Gumball. Gumballs are our new collectible that can be earned through the Party Pass or bought in the Shop. Want your Fathomz to be hot pink? Or your N.O.O.B. to have dazzling new hues? Gumballs can help you there.
Mashing is the process of sampling the bits and pieces from one Blanko and splicing those characteristics into another Blanko to create a new, custom Blanko. The only change to the new Blanko will be the color palette, and you won't lose the other Blanko.
If you want to customize even further, why not try both? Mix a MashUP with a gumball! Mash two MashUPs together! The sky's the limit, and you've got a jetpack on.
MashUPs will be irreversible, but the good news is you can preview the MashUP before committing the change. There is a cost to MashUP your Blanko, so this will need to be something you really want to do. There also will be some Blankos that will not be available for MashUPs.
Skills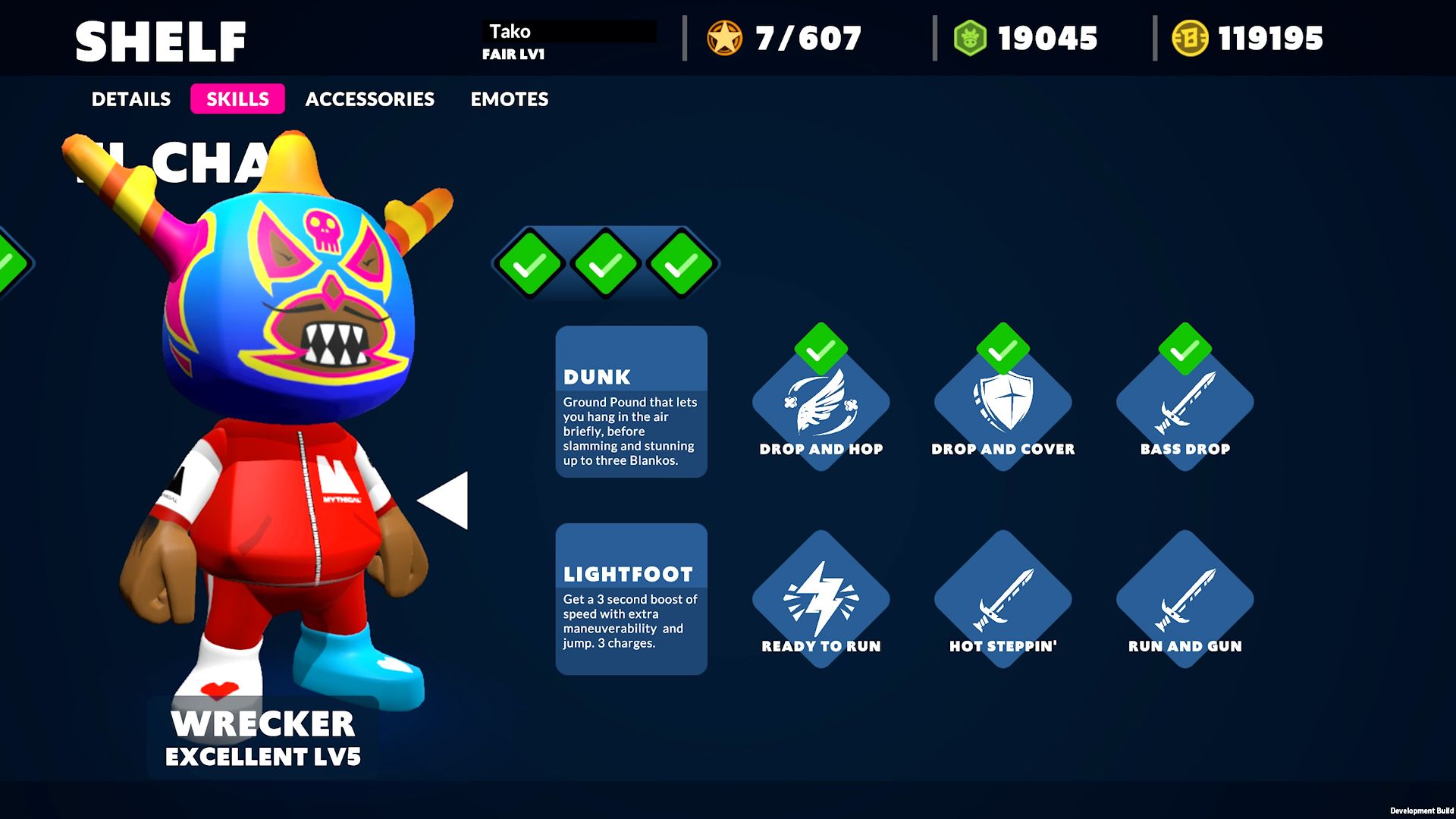 Your Blankos skills just got even more interesting! Introducing the new Blankos classes, called Styles! Each Season new Blanko Styles will be created by the design team. Every Style will have Power Moves (active skills), Perks (passive skills), and even special Hidden Perks you unlock just by leveling your Blanko. In addition to these, we've added base skills like a melee attack and sprint.
The number of Styles might be different from Season to Season. You might see Styles from older Seasons become available again; you may also see similar Styles but potentially with new Power Moves and/or Perks. In a future update, we plan on introducing Skill MashUPs, which will allow you to customize and combine the skills of your Blankos even further. More to come on this in a later update!
June 2nd Styles include:
Wrecker - Power Moves: Dunk and Lightfoot
Tracer - Power Moves: Swerve and Super Streak Smash
Tanker - Power Moves: Vibe Trap and Bubble Shield
GradeUP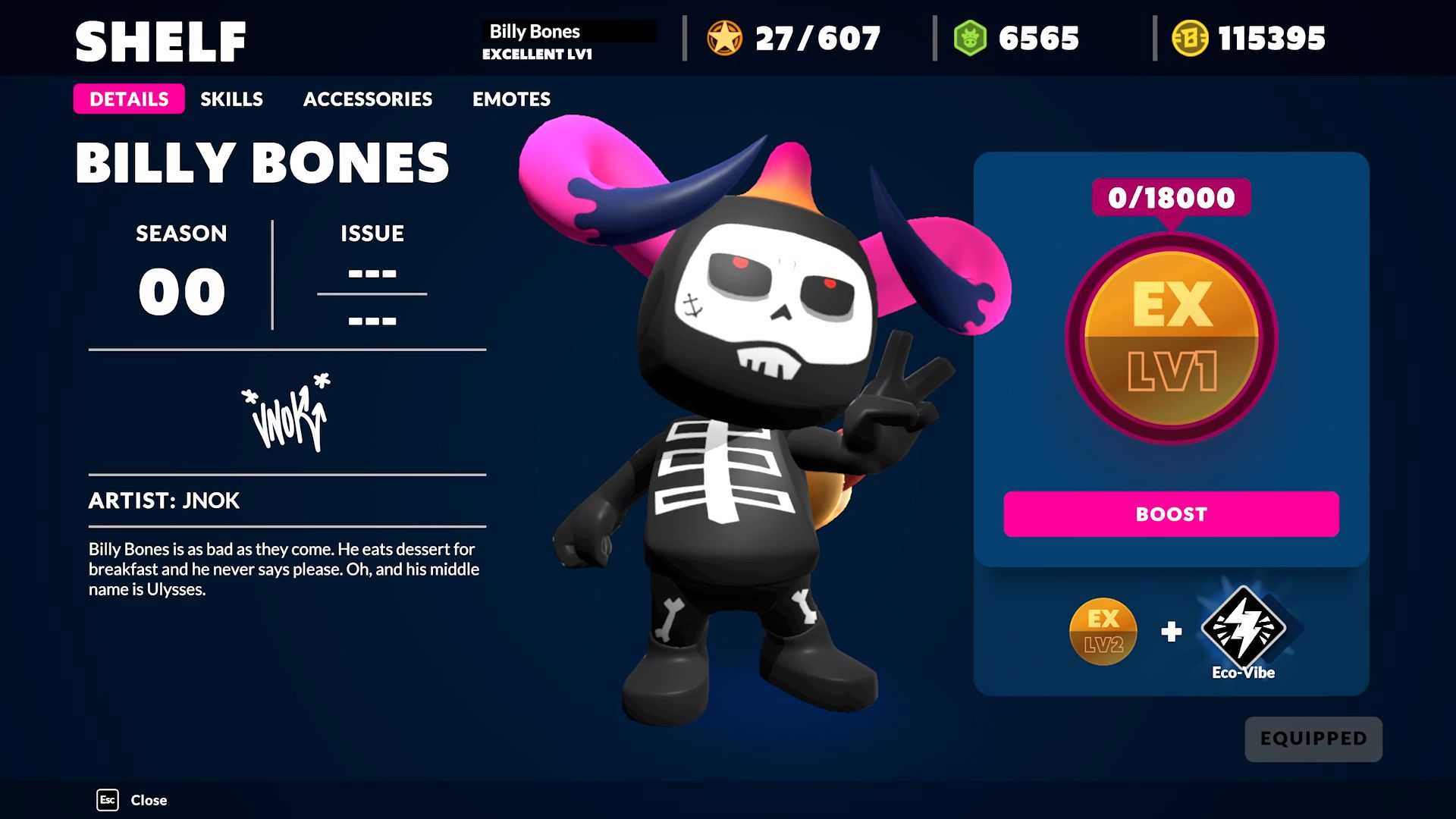 GradeUP is our new leveling system inspired by the real grading scale for rare collectibles. You can level just by playing the game or advance from Grade to Grade through XP Chips, which you'll earn through progressing in your Party Pass or in the Shop.
Every Blanko will have three Grades, with 5 levels in each Grade.
The Grades:
As you level up in each grade, you'll unlock new Perk slots, slots on your Blankos for Accessories, Hidden Perks, and even get some in-game currency. We have something special planned for this in a future update that will make your Blankos even rarer.
New Tutorial and Junction Renovations
When you first load into Blankos Block Party following the June 2 update, you will enter a world that feels familiar, but is completely different. The tutorial will need to be completed in order to unlock the full game experience, even if you've been playing since day 1. The good news is you'll get a free Blanko just for completing the tutorial!
Note that all your Blankos will be reboxed and safe on your Shelf, but you will need to complete the Tutorial quests in order to unlock all of the Main Menu tiles. This will be useful in getting you acquainted with our new Junction!
Mythical Marketplace Closed Alpha Update
We're excited to announce the Mythical Marketplace Closed Alpha will be launching on June 7th! Initial invites to select Closed Alpha registered users are going out soon, so keep an eye on your emails. The Closed Alpha will first welcome players engaged in both the game and the shop, and we'll share updates as we expand the invite list.
Over the past few weeks, we've been deploying updates to prepare our Marketplace for the Closed Alpha launch. These updates have been critical to the success of the foundation of the experience, which is why we are taking extra time to roll out the Closed Alpha. We appreciate your patience as we build this comprehensive platform, and we can't wait to show you our progress soon!
Soft Reset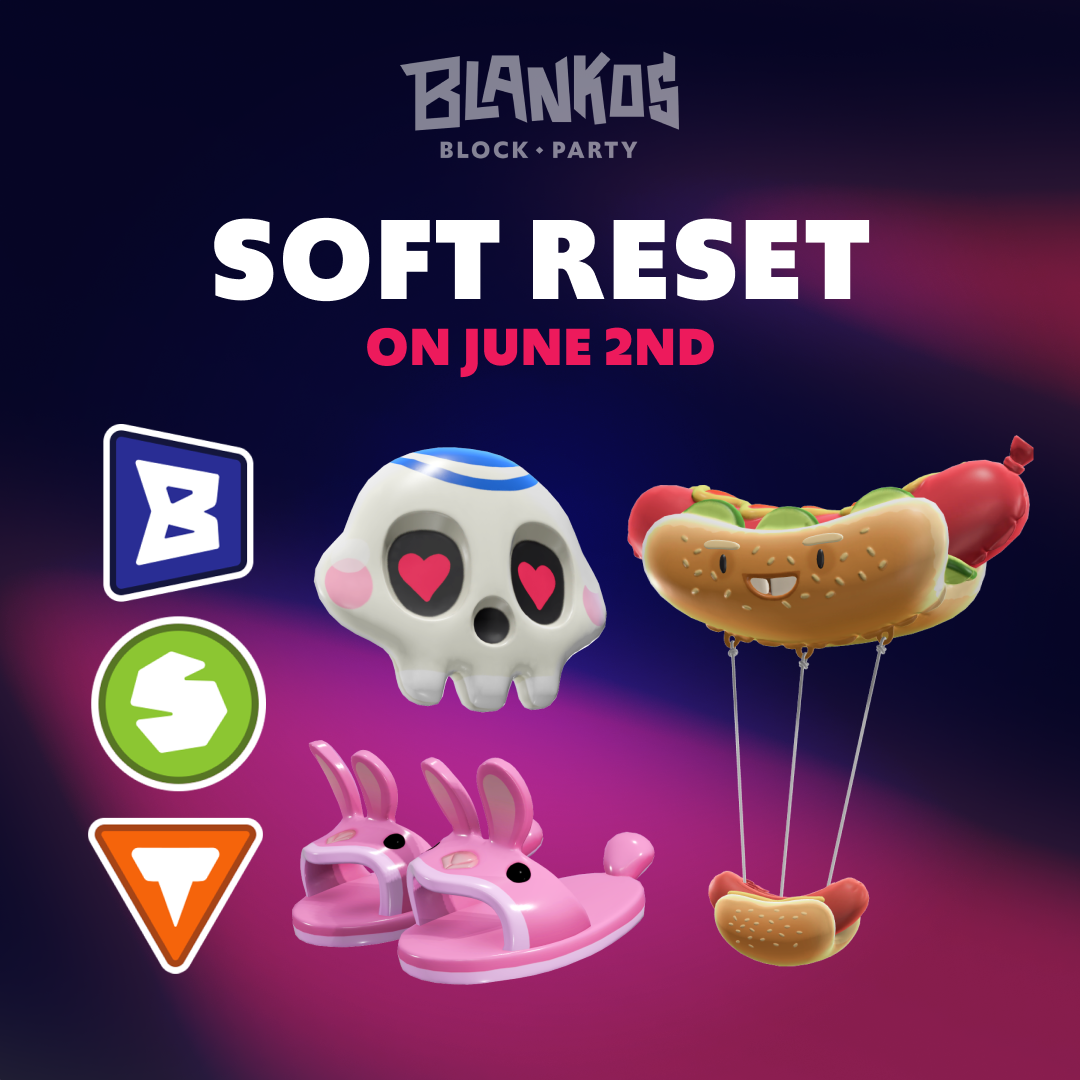 With all of this game-changing content, the progression reset is needed to properly evaluate the new progression and economy systems we will be putting in place. Anything bought with Blanko Bucks, USD, or Crypto will NOT be reset. We will only be resetting non-NFT items that were granted through quests or bought with Moola.
What will be reset on June 2nd?
Moola earned
Items purchased with Moola
Items earned through quests
Blankos' levels
Blankos' skill trees
What will NOT be reset on June 2nd?
Any Blanko, accessory, or emote bought with Blanko Bucks, USD, or Crypto
Any prizes were given out via our events or giveaways
Blanko Bucks purchased
Reboxing All Blankos
We're excited to announce that all Blankos will be reboxed with this update, to allow you to reset your Blankos with the new classes. Unboxed Blankos will not be able to go back into their box again after June 2nd.
Open Beta Reward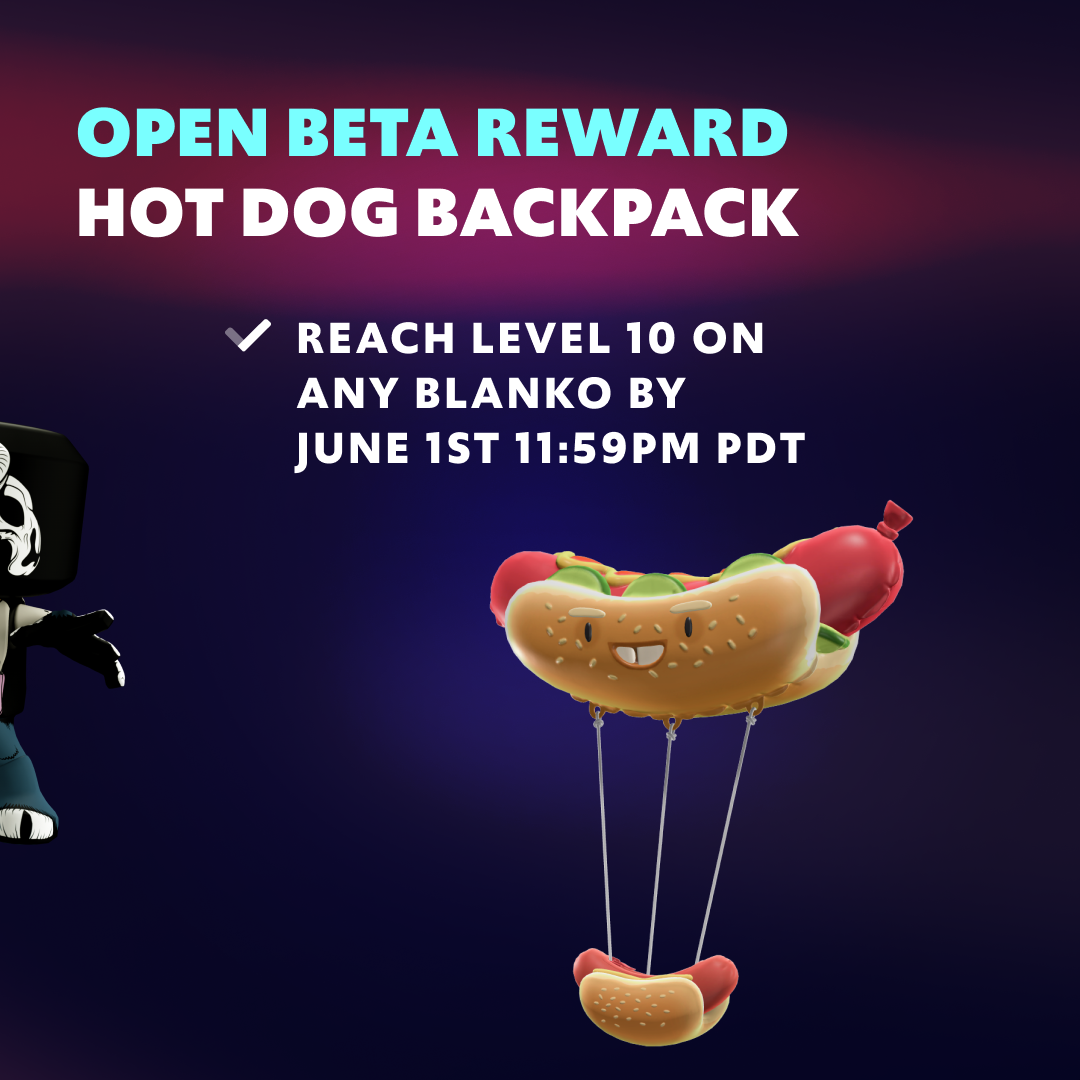 As a thank you to all of you who have been playing, grinding, testing, and giving feedback on Blankos in Open Beta, we will be granting the Hot Dog Backpack to anyone who has reached Level 10 on any Blanko. This is our way of thanking you for supporting Blankos and the Mythical Games dev team as we transition to this new phase of Blankos Block Party.
There you have it, folks! A glimpse at all the awesome stuff coming to Blankos Block Party on June 2nd. This is just the start as we have major plans for the game moving forward. And tune-in to E3 2021 on June 14th at 11:10AM PDT! We'll have a special keynote presentation to reveal some major partnerships coming to the world of Blankos and other exciting news!
---